Good morning, friends. A* and had such a nice day/night yesterday. I've been to this town at least 20 times. Seeing this place with A* is like seeing it for the first time. We explored Wynn, Caesar's, Paris (our home away from homes), Bally's and The Venetian.

She passed the Sushi (for lunch) test with flying colors... we ate noodles for dinner. Today is looking like a pool day. Tonight is our Big Date at Delmonico's which is my favorite restaurant in the world. I cannot wait for her to try one of my favorite wines.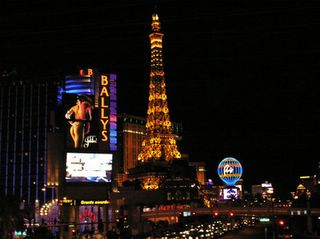 Some pretty lady got a new camera and some pretty lady took this fab pic on the bridge from Bally's to Bellagio.

hofzinser "the lucky Bastard" signing off... for now.