Sent A* off to the Spa for a massage, facial, pedi/mani (as she calls it - she so trendy). I played poker while she enjoyed a pre-dinner princess treatment. Lost $80 but I am still very happy with my play. I should end the week in the black with much poker to still be played this week.

She is napping now... I think her muscles are on vacation now after the massage. As you can see from the last few posts (here and on her Blog), we are having a story-book time. I must of saved a family of kittens in a previous life (Moocow should have a field day with that set-up).

She leaves Tuesday morning (we are not thinking about that). I have to teach seminars on Tuesday, Wednesday and Friday... LORDY, I am not looking forward to that. I am far to use to her being around.

I did get a ticket to NYC for the weekend of my B-day in June. We will be staying at the Rihga Royal for the weekend (right off of Times Square). Knowing we will be together again in a few weeks almost makes things OK (LIES!)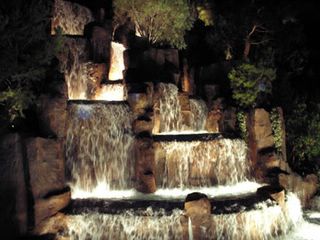 Miss A* took this outside Wynn. As pretty as the picture is, it does not capture the beauty of the falls in front of the casino.