Remember when you were a kid and they said if you died in your dream you will die in real life? I had my heart broken in a dream last night and woke up with a broken heart.


I've talked about what a vivid dreamer I am before. Last night I woke up around 4am crushed. I dreamt that I was over at A*'s parents' place. She came in the front door with a new "friend". As expected, he was younger and much better looking than I (doesn't take much, truth be told).

"Who is that?"

"We need to talk."

We stepped outside. She looked up into my eyes and placed the palm of her hand on my chest.

"I've met someone. I realize now that I need things you can't give me. I'm sorry."

I walked to my truck in a daze and drove off. My cell phone rings. It is her father.

"Dinner's ready, Hof."

"I can't come back. I hope you understand."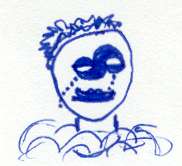 "Understand?"

"Ask your daughter. I am no longer a part of her life."

I then woke up with the worst feeling. It felt like congealed tree sap was pumping through my veins. It took me about thirty seconds before I realized it was only a dream. It scared the ever-living shit out of me.

It would be karma justice for her to drop me cold. I've only been dumped twice in my life. I am always the one who does the dropping. Before my head cleared and I sorted reality from dream, the feeling that I had it coming consumed me. I kept thinking, "Nice. That was it. That was your one chance. You met the one who was going to make you happy. You effed it up."

After all is said and done, I'll take a sex dream next time. Please.