In a comment on the last post serra asked: I have a good bloggy topic for you--where on earth did you get your screen name? Forgive me if I'm late to the Hofparty and you've already done this.

Johann Nepomuk HOFZINSER was born June 19th. 1806. He was well regarded by the Vienna elite as one of the greatest entertainers of his time. He was a sleight-of-hand magic maestro. It is believed was the first person to do sleight-of-hand with a deck of cards which is why he is not one of the many long forgotten magicians of the time. He invented the card trick.

When I was just starting college, my family and I went to Myrtle Beach for vacation. At one of the restaurants we encountered a bartender who could do a few magic tricks. I watched as he entertained us and all of his patrons. I also watched his tip jar overflow.

I had just started bartending and was intrigued. The next day we were at an outlet mall and I walked by a magic shop. I went in, bought a book and a few tricks and the obsession began. I consumed everything magic. I bought, read, studied and re-read every book I could find. I spent hours and hours training my hands for the subtle and intricate moves. I theorized and experimented with perception and concepts of misdirection. I honed my performance skills, my stage voice and magical persona.

In a few short years I had thrown together quite a repetoir and eventually supported myself for almost two years doing magic at private parties, restaurants, bars and trade shows. One night I found myself dreading going to a gig. The last thing I wanted to do was a card trick. It was my last gig. I loved magic too much to ever dread it again. This is why I will never sell one of my paintings, carvings, sketches or sculpts. I love art too much.

There is nothing like good ungimmicked slieght-of-hand magic. When presented without challenge or ego you can do something that no other entertainment medium can do...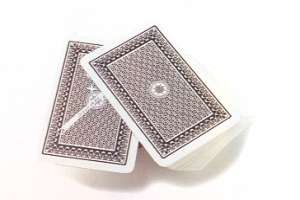 you can bend reality for your audience. The great magician Paul Harris calls this the "moment of astonishment" when you scramble their brains. If you are good, they will love you for it.

I've not gotten paid for doing a card trick in almost a decade. I am very rusty and have forgotten more tricks than I remember. I still love it when someone hands me a deck of their cards and I blow their minds. Sometimes I will wander down to my garage and sift through the hundreds of magic books I own and dig up some old routines.

Cards will always be my favorite and Hofzinser is to thank for that. Many of the sleights that Hofzinser created well over a century ago are still used today.

When I first started getting online his name made a great handle because it was always available. It is also nice that your can HOFinize anything. Here is another HOFpost explaining a bit of HOFhistory to HOFergize your day.

Here I show my mad skilz at sleight-of-hand.