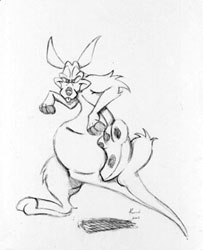 Though our families have fallen out of favor with each other, the cousins have done a grand job of keeping in touch and staying close. We always knew we were smarter than the 'rents anyway.

My mother's side of the family has met with more than its share of hardship. First my grandfather died, then my mother died, then her youngest brother had a failed suicide attempt, then our grandmother fell into the abyss of losing her mind to age, then my father and my mother's brothers broke all civil contact only to have the youngest brother (my uncle) attempt suicide again last year... and succeed.

The second oldest grandkid (after me) has moved to Australia with her boyfriend (unvetted by me, btw). Her and I have always shared a special bond being the first borns. Her father is the only surviving member of my mother's family and he has raised two amazing daughters.

Amy started a blog once she arrived down under. Swing by, say hello and tell her Hof sent you and, as usual, started this blogging thing LONG before she did.... *wink*

amy's aussie blog

I should have another top ten post up this weekend.