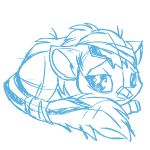 Want to know a few good things about cancer?

There is nobody to blame for it coming. It just comes and takes what it wants.

You know there is nothing the person you love can do different to suddenly recover and come back from cancer. They have to wait and hope forces outside them can make them better.... they can't make themselves better by changing the choices they are making in their lives. They are blameless and just as helpless as you feel.

You never feel anger at them for getting cancer. You feel sad, you feel helpless and you feel unbelievable emptiness when they go. You never feel angry that they let themselves get cancer.... you never blame them.

You know how the cancer story ends. You don't spend hours trying to figure out what would happen if the one you love does "A" if they will get better. What if they do "B"? Will they get better? You never find yourself coming up with plans A through Z and none of them seem to end well. With cancer it does not end well BUT you never get your hopes up by spending hours coming up with plans A through Z.

I lost my mother to cancer and never thought I would feel it was not the hardest way to lose someone. When I lost her, I thought it was the worst. In the last decade I've learned it is not the worst way to lose someone.

I'm finding cancer to not be so bad anymore. There are much worse ways to lose the ones you love... right in front of your very eyes.